Common Merganser: Mergus Merganser
Photo 2: Common Mergansers, A duck (top left of photo) and a drake (bottom right of photo).
Common Merganser drakes are white with a black-green head, red bill, and black back. Common Merganser Ducks (females) have a chestnut brown head with a crest and a grey body. They also have a white chin that is sometimes hard to spot.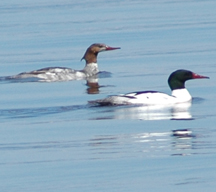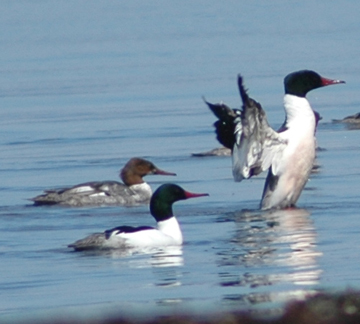 Photo 3: Common Mergansers in the water
Common Mergansers are skilled divers using their fine saw-like teeth to grip slippery fish. As well as fish, they feed on fish, mollusks, crustaceans, and even some plants. Mergansers are solitary breeders with about 10 eggs per brood. Incubation is about 30 days.